Bed & Breakfast Find: Masseria Moroseta Puglia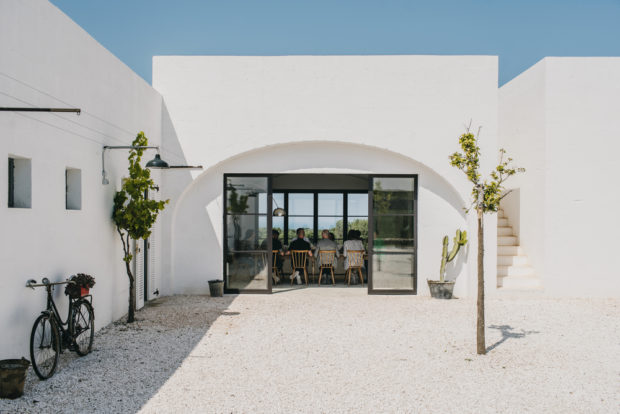 Masseria Moroseta is the stuff of Instagram dreams, with its camera ready dreamy design, story-worthy breakfasts, and selfie-bait resident bulldogs, Beppe and Emma. The fact that this charming bed & breakfast is located in Puglia ? undoubtedly one of 2017?s freshest destinations ? helps too.
Moroseta evokes a contemporary take on a traditional Pugliese farmhouse, located on the outskirts of Ostuni, a glistening white hilltop town less than 10km from the jagged coastline. The building itself is set within an organic olive grove, from which its owner, Carlo Lanzini, creates all manner of sumptuous olive-based products, from oil to soap, which he sells onsite. If you follow the stairs to the rooftop, you can just about see the Adriatic sea. Carlo started work on the Moroseta back in 2012, alongside his best friend and founder of Openhouse magazine, Andrew Trotter, who designed the bright white-painted sandstone exterior of the building. After nearly four years of construction, using traditional techniques and local materials, Moroseta opened its doors in 2016.
From inside out, the design blends modern minimalism with an authentic rustic warmth that co-exist in perfect harmony; White painted arches house floor-to-ceiling glass, a Gervasoni lamp hovers over a sandstone floor, and the reception table takes the form of an ancient farmhouse table.
After three unforgettable nights of design-conscious rural bliss, Melting Butter grabbed a few moments with Carlo Lanzini to find ou...
URL:
http://www.meltingbutter.com/
--------------------------------