The Serafina Beach Hotel Celebrates the Sand and Surf Culture of San Juan, Puerto Rico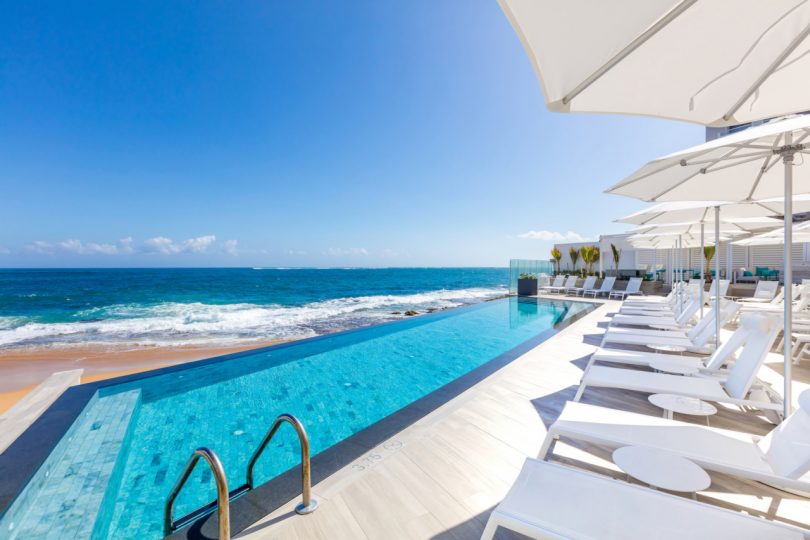 New York-based design studio ICRAVE was inspired by the tones and colors of the Atlantic Ocean when designing the interiors of this hotel.

From offices to pool houses to lighting collections, New York-based design and branding studio ICRAVE does it all. One of the company?s latest projects is the completion of the interiors for the Serafina Beach Hotel, a stylish property embodying the sun and surf culture in San Juan, Puerto Rico.

In collaboration with San Juan-based LA Architects, ICRAVE stripped the building down and remodeled everything, including the building?s systems, facade, and pool deck areas. The team took inspiration from the views of the Atlantic Ocean and neighboring Laguna del Condado, as well as the trendy Condado district, to give the hotel its fresh new facelift.
Tones of blue, sea-glass greens, foam whites and driftwood greys begin in the lobby, extend into the lounge, known as PiñaCo, and out into the pool deck. Upon checking in, you?re greeted into a double-height reception area that features a canopy of woven El Torrent light fixtures in varying sizes and colors, wood screenings reminiscent of Erwin Hauer?s work, and a terrazzo staircase that leads up to a large abstract mural by Puerto Rican artist Sofia Maldonado.

Stepping in PiñaCo, you can grab a drink at the bar and lounge in swing chairs by Ketal. Turquoise cushions and a large blue and green watercolor area rug by Durkan remind you of the waves just right outside.

The ocean th...
URL:
http://design-milk.com/
--------------------------------