Elegant Holiday Living Room and Mantel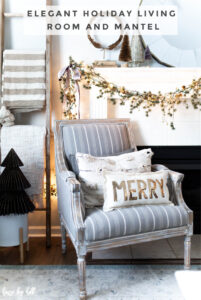 My elegant holiday living room and mantel came together pretty easily this year. I am reusing many favorite decorations and adding in some new pieces to create a really lovely space for the season!
Happy December!  Can you believe how quickly time is flying"  With a busy photography season behind me, my daughter switching frequently between in-person and virtual school, and just the general craziness that this time of year brings, it seems like getting into a regular routine and consistency has just not been possible.  But, I digress.  Despite the craziness of 2020, it is almost over, and we find ourselves getting ready to jump into the holidays!  Woohoo!
Elegant Holiday Living Room and Mantel
Today I'm sharing my elegant holiday living room and mantel as part of the Seasonal Simplicity Holiday tour hosted by one of my favorite blog friends in all the land, Krista from The Happy Housie.  Find the entire lineup of holiday mantels and vignettes at the end of this post!
I must be getting old or something.  I am just really finding myself drawn to really traditional and elegant design lately.  If I had my way, I'd really love to take a paintbrush to this whole space and paint it a really dark, moody color, add some picture frame moulding, and hang old oil paintings on the wall.  Either I'm getting old, or I've been watching too much of The Crown…or both…ha!

But, seriously folks, I did have kind of a European/Traditional style i...
URL:
http://www.housebyhoff.com/
--------------------------------