Bang & Olufsen Unveils the Beovision Harmony in Milan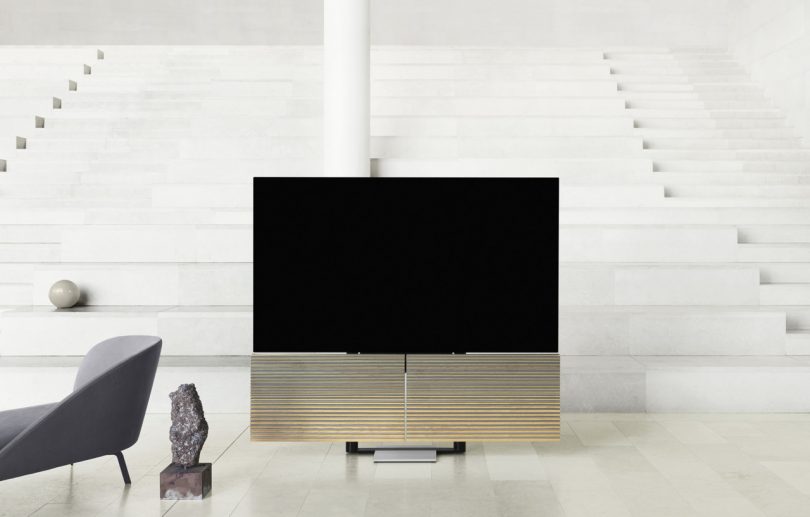 Bang & Olufsen's $20,000 OLED television unveiled at Milan Design Week opens up with the graceful movement of butterfly wings.

Bang & Olufsen's Milan Design Week is marked with the unveiling of a stunning OLED television that reveals itself with a subtle bit of dramatic flair every push of the "ON" button.

The Beovision Harmony is the result of Danish design paired with LG?s 77? OLED screen technology.
The Beovision Harmony continues the high-end Danish brand's commitment to designing televisions with the appearance of furniture rather than intrusive technology. Hidden behind two crafted panels constructed of successional strips of oak and aluminum, the Beovision Harmony unveils itself like no other display. Engineered to fan out like insect wings, the television's thin 77? OLED screen elevates to an eventual ideal viewing height.
The understated gradient design of each panel aren't merely aesthetic, with the intricate grading pattern positioned to accentuate acoustic performance of the three-channel, fully active DSP-based center sound bar hidden underneath. The Danish manufacturer cites its own catalog as inspiration, noting the concept behind the Beovision Harmony originates decades back with their 1950s and 1960s era Capri series, Bang & Olufsen's teak dressed televisions designed to fully integrate with the living room with hidden controls and componentry.

The $20,000 Beovision Harmony won't ...
URL:
http://design-milk.com/
--------------------------------