A Seattle Condo Filled with Bold Patterned Textiles
Interior designer Michelle Dirkse remodels her own Seattle condo with a dated 1960s interior into a modern, pattern-filled space.
Cubit Should Be in Every Designer?s IRL Toolbox
A laser guided measurement tool offering anyone requiring precision measurements a way to preview projects in real time using AR.
Friday Five with Paul Gardner
Paul Gardner, VP of Engineering and Quality at Reynolds Polymer Technology, shares a few of his favorites in this week\'s Friday Five.
MATERIAL LUST?s Return of the Oppressed
It has been three years since MATERIAL LUST have shown a new body of work, recently they debuted Return of the Oppressed at INDEPENDENT.
MDW19: How a Tile United an Apartment in ?Perfect Darkness?
Elisa Ossino and Josephine Akvama Hoffmeyer created an installation where the humble tile reigns supreme.
Germany?s First Andaz Hotel Replicates Diamonds in the Bavarian Flag
The diamond shapes of Bavaria\'s natural icon weave themselves into the leitmotif of Hotel Andaz\'s design language.
Panasonic and Vitra Transparent OLED Technology Is a Pane in the Glass
One moment the Vitrine appears to be a fully transparent glass cabinet, the next moment, a vivid OLED screen.
Nendo and WonderGlass? Melt Collection on Display in the Shape of Gravity
An exhibition featuring cast glass furniture formed by hot glass sheets over steel shapes suspended in order for gravity to do its work.
8 Succulent Planters to Get Your Indoor Garden Started
We rounded up 8 modern planters that are perfect to house low-maintenance succulents.
Society6 Celebrates Power Mamas
Last week Society6 launched their latest collection! Power Mamas celebrates 11 of their favorite female founders.
Marni Moon Walk Pays Tribute to the Universe
This year, during Salone del Mobile 2019, Marni paid tribute to the moon through an outdoor sensory journey entitled Marni Moon Walk.
Voting for WantedDesign LaunchPad 2019 Is Now Open
From now until May 22nd, you can vote for your favorite independent designer or small company under the furniture and lighting categories.
MDW19: Missoni and Alessandra Roveda Create Playful Home with Crochet
A fantastic world of knitted material where everyday objects?sofas, beds, books, clocks?assume a new evocative appearance.
Beza Projekt Designs a Mad Men Inspired Co-Working Space in Warsaw
A co-working office in Warsaw that gives Don Draper a run for his money.
Kolho: A Story of Serpents, Serendipity and Creative Alchemy with a Surface that Mimics the Moon
Matthew Day Jackson, Finnish design studio Made by Choice and Formica create a sinuous, custom laminate chair inspired by Apollo landing.
COS x Mamou-Mani?s Conifera Installation Bridges the Worlds of Nature, Architecture and Technology
An installation comprised of 700 interlocking modular "bio-bricks" that explores the future of 3D printing and renewable materials.
Listen to Episode 84 of Clever: Streetwear Designer Bobby Hundreds
Designer and author Bobby "Hundreds" Kim went to law school but felt more comfortable amongst outsiders, & design and writing were calling.
Where I Work: Lucia Bartholomew of Electric Bowery
Lucia Bartholomew of Bowery Electric gives us a peek inside her plant-filled world, as well insight into how she works.
Mud Australia Celebrates 25 Years with Launch of All-Matte Finish
Acclaimed handmade porcelain brand Mud Australia is celebrating 25 years of making with the introduction of an all-matte finish.
Bert Frank Releases New Lighting at Euroluce
Luxury lighting brand Bert Frank presented new lines Flagon, Spate, Rote, Rift, Trave, and Tanto at this year\'s Salone del Mobile, Euroluce.
Melanie Abrantes Designs Vases Made from Scrap Materials
Melanie Abrantes combined off-cuts of cork and hardwood with thrifted glass bottles to become functional pieces of art.
Moooi?s A Life Extraordinary Showcased New Designs at Salone
Moooi unveils a series of furnishings that fall right in line with the Dutch brand\'s ever-expanding whimsical collection.
The Muji Hotel Ginza Brings Anti-Cheap Design to Tokyo
Muji recently opened a hotel in Tokyo completely furnished in their signature modern organic simplicity.
A Toronto House Appears to Gaze Through Two Symmetrical Windows
Working with a tight budget, a narrow lot, and zoning regulations, this Toronto house comes together with a face-like design.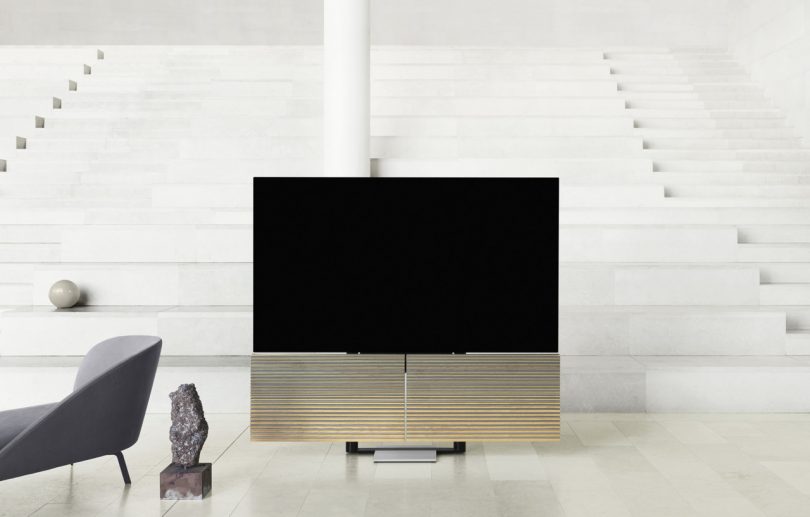 Bang & Olufsen Unveils the Beovision Harmony in Milan
Bang & Olufsen\'s $20,000 OLED television unveiled at Milan Design Week opens up with the graceful movement of butterfly wings.