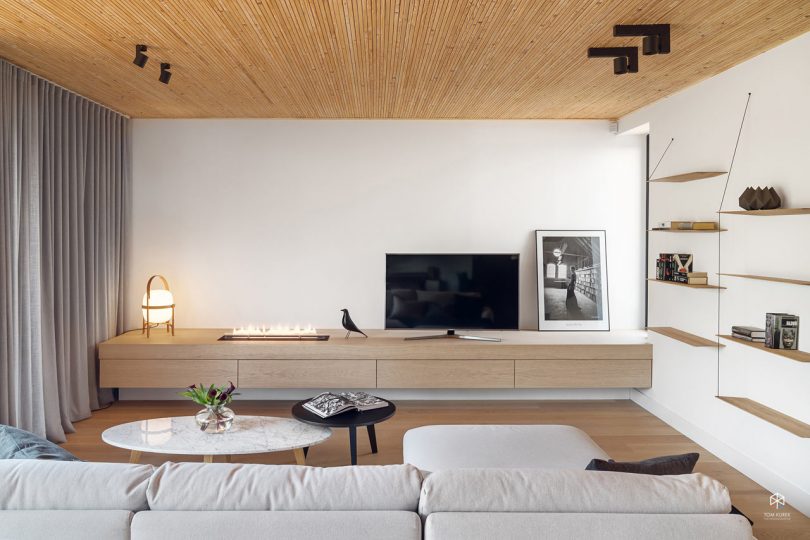 EV Architects Designs the Striking Interiors of This Lake House in Chyby, Poland
A modern lake house in Poland that combines white, graphite, and wooden elements for a cozy Scandinavian aesthetic.
At Prague?s Signal Festival 2018, a Historic City Is Seen in Modern Light
A four day journey with Prague\'s Signal Festival to visit historical sites and old palaces, come to life with modern light installations
Where I Work: Toby Hextall of MOO
Toby Hextall takes us inside the London offices for MOO to see where he and his team make it all happen.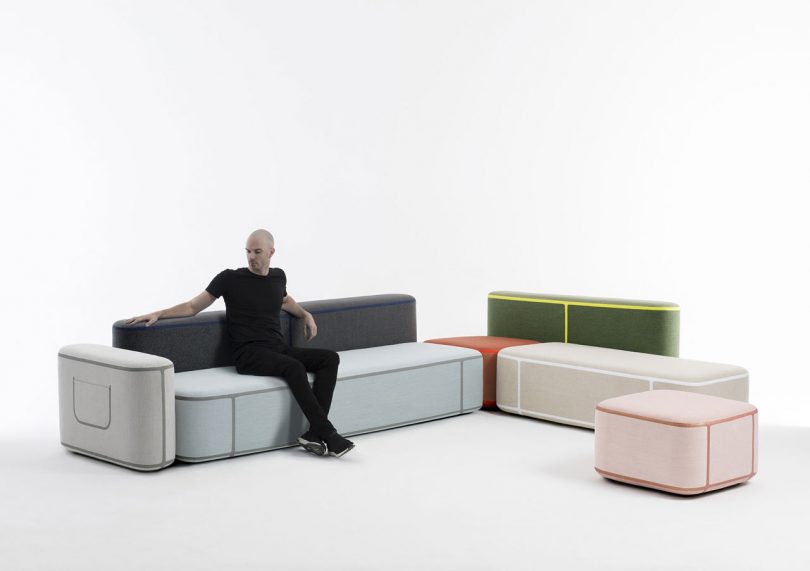 Benjamin Hubert?s Tape Modular Seating Adds an Element of Fashion
Forgoing typical upholstery methods, Benjamin Hubert uses polyurethane tape to join smaller pieces of fabric together to make the whole.
Ryuichi Kozeki Explores the Relationship Between Light and Objects with OCULUS
Ryuichi Kozeki set out to explore the relationship between light and objects through his latest design, OCULUS.
A Sculptural House in Venice by FINNE Architects
A sculptural house in Venice, CA that offers a respite from the visually chaotic sights of the neighborhood.
Rachel Whiteread Nissen Hut Casts History onto Prefabricated Architecture
A life-sized piece connecting the history of the pre-fab wartime architecture to the landscape on which it once occupied.
Hightower?s Elemental Collection Aims to Change How We Work
The latest from Hightower is approachable + modern, focused on connectivity and connection within the workspace.
Blue/Green Gradient Mirrors Made From Inflated Metal by Oskar Zieta
Mirrors in blue/green gradients that go from flat to three-dimensional wall sculptures.
Joe Doucet Designs for the Future of Dining with 3D Printed Hybrid Vessels
A collection of 3D printed hybrid vessels that have the future of dining in mind.
Tommaso Guerra Brings a Fresh, Fun Vibe to Campus X in Rome
Campus X in Rome gets some fresh new common spaces that are decked out with a playful 80s vibe.
adidas Originals Never Made Collection Connects Past to Present
Adidas remixes old school silhouettes from the 70s, 80s, and 90s with cutting edge tooling of today.
Friday Five with Vincent Lim of Lim + Lu
Vincent Lim shares five of his must-haves and favorite things, in this Friday Five.
The Sling Collection by Harkavy Furniture
A highly customizable piece of furniture that highlights the beauty of wood, metal, and leather.
The Inside Partners with Christene Barberich on a Vintage-Inspired Collection of Furnishings
The Inside x Christene Barberich collaboration perfectly translates her unique style with bold patterns and playful color combinations.
A Los Altos Home That Offers Perfect Indoor/Outdoor California Living
A mid-century inspired home with the perfect indoor/outdoor living scenario to enjoy California weather.
SOL Motors Pocket Rocket Is a 50mph Urban ?Noped?
The SOL Motors Pocket Rocket imagines urban mobility as an aggressively styled 2-wheel electric vehicle capable of speeds up to 50mph.
Helsinki Design Week 2018: Behind the Scenes Marimekko Factory Tour
Marimekko\'s designers share how they create their patterns, choose colors and became a Finnish design icon.
Adding Pattern Play to Your Furniture with Society6
10 credenzas that will convince you to add some graphic patterns into your home.
3 Britannia Wharf by Paolo Cossu Architects
A minimalist home that was designed and developed with an economy of visual, spatial and structural means.
Brown Hotels Opens Its Largest Property Yet, The Lighthouse in Tel Aviv
This new hotel offers guests an abundance of modern amenities, panoramic city and sea views, a panoramic rooftop lounge, and more.
Tidelli Outdoor Launches Their 2019 Collection with New Finishes and Colors
A whole new outdoor collection that continues the use of nautical rope in inventive ways.
The Ceramic Sculptures of Kathy Butterly
Beautiful and odd sculptures that demand a full 360-degree exploration.
Crease: A Range of Modular Acoustic Ceiling Tiles by Turf Design and MNML
These drop ceiling acoustic panels add dimension and texture while also addressing the noise issue in open layout offices.
This Space Was Designed Using an iPad, Morpholio Board and?a Ride in an Uber
Utilizing iPads, Morpholio Board and other intelligent software, you can design, present and document work from anywhere.